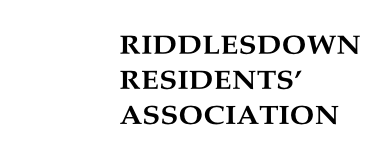 Proposed Mobile Phone Mast on Purley Downs Golf Club;
near Brancaster Lane
New 14/4/17
We have reposted this article from Cllr Tim Pollard's blog (posted 13/4/17), about a proposed mast on the Purley Downs Golf Club, (approx r/o 117 - 131 Brancaster Lane - EE have not been clear as to exactly where the mast will be located!)

"We have been contacted by a PR company on behalf of EE about another proposed mast down near Riddlesdown Station, on land owned by Purley Downs Golf Club.
It is proposed to be bigger than the other masts already there and will be an eyesore from a number of properties just over the border in Purley ward. Note that the picture here is not of the proposed mast, but off the alternative I mention below.
I have responded with the following points:
The mast at 22 metres is too high. It will clearly be seen from the vistas of Brancaster Lane, Riddlesdown Ave and parts of Riddlesdown Rd, the latter two streets all look down on the golf club land as they are considerably higher than the golf course land/railway which is in the valley. We already have a 15m high Vodafone/O2 pole mast behind 135 Brancaster Lane and at the back of the new flats in Lower Barn Rd (Riddleah Court). This mast is partly screened by the trees on the railway embankment. There is also a 15 m high Network Rail mast beside the line, r/o 93 Brancaster Lane (on the golf club side). This NR mast is clearly visible from some properties in Brancaster Lane, Riddlesdown Ave and Riddlesdown Rd. To have a third mast, in such a short distance (approx 200 metres), which will be taller, is not really acceptable. A 15 metre high pole mast, with antenna hidden (similar to Riddleah Court), might be acceptable.
It is not clear the exact position of the proposed mast in relation to the properties in Brancaster Lane and where exactly this mast will be located. This needs to be shown on the drawing and site plan and specified in the application form.
The mast, antennae, all equipment and cabinets need to painted dark green, as the land it will be situated on, is Green Belt. Why does it have to be such a ugly mast, with crows nest & ladder. According to the drawings, the top of the mast will be at least 12 metres above the top of the tree line.
Is there no option to mast share on the two other local masts (with Network rail and/or O2/Vodafone), as EE already do with the mast in Dunmail Drive, near to the Mitchley Hill junction, with both O2 & Vodafone?
It seems rather disappointing that EE has made no effort to disguise the mast more appropriately, as seen in this example from elsewhere (image below). As proposed it is large, intrusive and unsightly, whereas suitably disguised as a tree it would pass almost un-noticed. Can some further thought be given to this, please?


RRA's View
Cllr Pollard has asked the RRA about this pre application proposal and we have given our views! We believe the mast should be disguised like tree as the land is Green Belt. The photo above, is of an O2 mast on a golf course in Horsham disguised like a tree.

The RRA are not against an EE mast at this location (as their service is poor) but we think this proposed mast is ugly and will be seen by many residents! Most masts are at 15 metres high. EE's proposal is for 22 metres high which will be well above the existing tree line. They also want coverage inside the railway tunnel and it maybe possible this mast will be too tall to do that?! The Govt guidance PPG8, says that telecoms masts should not be on Green Belt land unless there is no other option. The other two masts locally, within the 200 metres stretch, are not on Green Belt land!
The proposed mast by EE would be 22 metres high, a lattice work pole with a ladder and a crows nest, with 3 antennae (see plan below). It will be above the tree line and will clearly been seen by properties in Brancaster Lane, Riddlesdown Ave, Riddlesdown Rd and Coombe Wood Hill and to a lesser extent, some properties in Mitchley Ave.

The other point is, that the Purley Downs Golf Club presumably will receive an income and the mast will be located well away from the Club House. The rail passengers will have good network coverage but it is the local residents that will have to put up with the view of a large ugly mast overlooking their rear gardens. If it needs to be so tall so the rail service is covered, why is it not positioned directly on the station land close to the tunnel entrance which has line of sight for the trains but is not overlooking the back gardens of local residents?
The RRA would like to hear the views of residents. Please e-mail your thoughts to Riddlesdownresidents@gmail.com
Mobile Phone Masts in the Riddlesdown Area - Updated 10/9/14
It appears that a number of the mobile phone companies have recently been changing their mast locations within our locality and this could be having some effect on coverage for both the 2G, 3G and 4G networks for some residents in our hilly part of Riddlesdown. There are also a lot of trees in our locality and a number of valleys which affect transmission, as well as weather conditions. Reception for some networks near to Riddlesdown station is not very good.
T-Mobile and Orange (now branded as EE) may have amalgamated their mast locations. The 3 network and Virgin do also mast share with EE and Tesco run on the O2 network. Also 4G is now being spread across all the mobile phone networks and it is rumoured this maybe having an effect on 3G coverage and performance. We are also aware that many elderly people in our area just rely on 2G because they want to only make phone calls and not download off the internet from 3G or 4G. Some 2G coverage is not very good locally.
There are four mobile phone masts in our area. The Ofcom website does give these mast locations but unfortunately the mobile phone companies are now rather coy in publishing details of their mast locations and type of network coverage and there is a proviso on the Ofcom website "that the list is not current and the mobile phone companies provide the information, voluntarily"! The last update was done in May 2012. However, T Mobile has not supplied any data since 2005. It is also not totally clear whether these four masts, are transmitting at 2G, 3G or 4G! However, it can safely be assumed they all are on 3G.
We have been told by Cornerstone (the partnership for O2 & Vodafone) that the new 15m high mast share in the car park of the new flats development (Riddleah Court) in Lower Barn Rd is 2G, 3G & 4G for Vodafone and only 3G & 4G for O2. We also know that the O2 antenna is at 15 metres high and the Vodafone antenna at 12.7 metres high.
The 19.5 metre high mast at the bottom of Dunmail Drive (close to Mitchley Hill junction) is we believe for O2, Vodafone & T-Mobile (EE). We believe it has 2G, 3G and 4G.
The 25 metre high mast further up Dunmail Drive, near to the Collegiate is EE's (T Mobile & Orange).We believe it has 2G, 3G and 4G. However during the summer 2013 and again in late August 2014, we are aware that EE did switch off this mast at the top of Dunmail Drive and this did have quite an effect on transmission in the area. The RRA and some residents contacted EE on both occasions and EE did switch the mast back on again, as it did have huge implications for many children attending the Collegiate who might want to use their phone in an emergency, as well as local residents. The RRA and our local MP, are trying to find out why EE keep switching this mast off.
The 9.7 metre high mast in Mitchley Ave near to the Riddlesdown Rd junction is also EE's (T Mobile & Orange). We believe this is 2G, 3G and 4G.
As the topography around here is quite undulating and mobile phone reception can be patchy in some places, and if you have noticed a drop in the performance of your phone, we would suggest that you take this up direct with your network provider! The more people locally that complain to the phone companies, the more likely they are to do something about it! If you are thinking of changing your mobile phone provider, then we would suggest you find a friend or relative who has that network coverage you want and check it works within your house/flat! Don't rely on the network coverage information given on the mobile phone companies' websites! It is not always accurate, especially if you want to use your mobile within a building.
The RRA are generally in favour of mast share and we don't particularly want any more masts in our area. We would also like to hear any feedback from residents on this subject, so please Contact us.
4G Masts- Possible TV interference - There has been some press speculation that 4G masts could interfere with the digital Freeview TV service. TV reception in some parts of the RRA area, particularly in the valleys, can be poor and some residents may receive a signal from a relay station and not the two Crystal Palace TV transmitters. Properties in some parts of Lower Barn Rd and Mitchley Ave do have extremely tall poles for their TV aerials. It is possible therefore that some residents may find interference to their freeview signal when all these 4G masts are turned on.
Cornerstone Telecommunications Infrastructure Ltd (CTIL - O2 & Vodafone) for the mast in Lower Barn Rd, have advised in their fact sheet they supplied to us "Interference with Television Reception; Will a mobile phone base station interfere with my television reception?" - "All operators of radio transmitters are under a legal obligation to operate those transmitters in accordance with the condition of their licence. Operation of the transmitter in accordance with the conditions of the licence fulfils the legal obligations in respect of interference to other radio systems, other electrical equipment, instrumentation or air traffic systems. The conditions of the licence are mandated by Ofcom, an agency of national government, who are responsible for the regulation of the civilian radio spectrum. The remit of Ofcom also includes investigation and remedy of any reported significant interference. If there is a complaint of interference to domestic radio and television in the first instance the BBC assist via the BBC Help Receiving TV and Radio web site at: http://www.bbc.co.uk/reception/. If, following investigation, there is evidence of interference caused by a Vodafone or O2 mobile phone base station CTIL will ensure this issue is addressed."
Further details about tv interference are also available on the Ofcom website.
Also this type of LTE (Long Term Evolution - 4G) filter can be purchased and may also be useful, if and when residents have interference problems from any 4G installations. Link