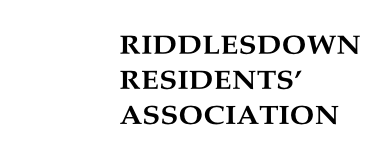 THE RIDDLESDOWN RECORDER ON LINE
You can download recent past copies of our magazine as PDF files.
THE RIDDLESDOWN RECORDER
The "Riddlesdown Recorder", is the magazine of the Association is published twice a year, with a Autumn and Spring edition. There is limited space for advertising.
The editor for the Riddlesdown Recorder is; Dr Neil Tarrant. Please send any articles or reports for inclusion in the magazine, to him direct. Neil can be contacted via EditorRRA@gmail.com
Advertisements in "The Riddlesdown Recorder"
2020: RATES:
£30 - quarter page black and white
£55 - half page black and white
£90 - full page black and white
£200 - full page colour
£300 - full page colour inside front or back cover
£400 - full page colour back cover
RECORDER DEADLINES:
SUMMARY INFORMATION & PROCEDURES:
Advertising space, particularly colour advertising space and colour cover special locations, is limited and booked on a first-come – first-served basis.

Only full pages of colour advertising can be accepted at present.

Bookings are accepted at any time –

Note:

Deadline dates above.

Advertisers can be issued, on request, with an RRA invoice for payment, either by cheque or BACs transfer into the RRA Account. Only advertisements with payments received by the deadlines will be included in that magazine issue.

The same rates apply to all advertisers and rates will be listed in the Recorder itself &/or on the RRA website.

New advertisers should submit artwork (contact the RRA for formatting information) or can make arrangements to pay the RRA printers to produce artwork for them.

Advertisements must fall within set advertisement sizes (full, half or quarter page) in order to be placed.

Existing advertisers can make arrangements to pay the printers to make amendments to their artwork.

In the case of any queries, the RRA Editor's decision is final.
IMPROVEMENTS TO THE RRA RECORDER MAGAZINE
The RRA has existed since 1937 and is a non-political, non-commercial, non-profit, voluntarily run community organisation with circa 1,500 households and over 3,000 people as members. Well over 90% of all households in the Riddlesdown area are members. The RRA produces the Recorder on a non-profit basis for the benefit of the local community.
All items will be considered for the magazine but are always subject to availability of space and suitability of content.
Free inclusion in the magazine's Community Pages of short pieces (new ones required for each issue, please) about local associations, activities and events is offered, but please get them in as early as possible.