CROYDON COUNCIL INFORMATION, LOCAL FACILITIES,
CROYDON SOUTH MP & CONTACT DETAILS
CROYDON COUNCIL - Website Link
70 Councillor seats (as at 1 July 2022)
Labour 34 seats; Conservative 33 seats,
Greens 2 seats and Liberal Democrats 1 seat
Executive Elected Mayor - Jason Perry (Con)
Deputy Mayor - Cllr Lynne Hale (Con)


Tel: 020 8726 6000 or 020 8686 4433
Access Croydon and Call Centre open 9am to 4pm, Monday to Friday
London Borough of Croydon;
Bernard Weatherill House
8 Mint Walk
Croydon
CR0 1EA
Postal correspondence can be sent to each Councillor:
c/o Town Hall, Katharine Street, Croydon CR0 1NX
PURLEY OAKS & RIDDLESDOWN WARD COUNCILLORS (Conservative)
Cllr Alasdair Stewart
Mobile tel: 07716 092472
Email: alasdair.stewart@croydon.gov.uk Twitter : www.twitter.com/AlasdairIS
Cllr Endri Llabuti
Mobile tel: 07716 092461
Email: endri.llabuti@croydon.gov.uk Twitter : www.twitter.com/ELlabuti
SANDERSTEAD WARD COUNCILLORS (Conservative)
Cllr Yvette Hopley
Tel: 020 8604 7033 (note this is a new Tel. number - Oct 2022)
Email; yvette.hopley@croydon.gov.uk Twitter : www.twitter.com/YvetteHopley
Cllr Lynne Hale
Tel: 020 8405 6721 or 07710 183 588
Email: lynne.hale@croydon.gov.uk
Cllr Helen Redfern
Tel: 07783 152334
Email: helen.redfern@croydon.gov.uk
PURLEY & WOODCOTE WARD (Conservative - for residents living at the top end of Downs Court Rd from the Mitchley Ave junction and Cranford Close only)
Cllr Simon Brew
Tel: 07803 618 096
Email: simon.brew@croydon.gov.uk
Cllr Samir Dwesar
Tel: 07716 092471
Email: samir.dwesar@croydon.gov.uk
Cllr Holly Ramsey
Tel: tba
Email: holly.ramsey@croydon.gov.uk
Alternatively residents can call Croydon Council's main number on 020 8726 6000 (Mon to Fri ; 9am to 4pm) and ask for a Councillor listed above to call them back.
All elected Councillors in Croydon
OUR MP for CROYDON SOUTH (Conservative) - December 2019
Chris Philp MP, The House of Commons, London, SW1A 0AA
Tel; 020 7219 8026
Email; chris.philp.mp@parliament.uk - Website
GLA (GREATER LONDON ASSEMBLY) MEMBER FOR CROYDON & SUTTON - May 2021
Neil Garratt (Conservative)
Email; neil.garratt@london.gov.uk
Ward Map of Borough
A full map, of the Croydon Borough, with all the new Ward changes can be view on this link (in pdf).
A map showing the two Wards in the RRA area (PO&R & Sanderstead) can be viewed here
Photo ID required to vote at Polling Stations from May 2023
New 19/1/23
Some residents may have seen the recent tv adverts, that from 4 May 2023, voters will need to show photo ID when turning up to vote for local elections at a Polling Station, and from 5 October 2023, photo ID is required for Parliamentary elections or by elections.
Note; there are currently no scheduled elections in Croydon for the whole of 2023 (unless an unforeseen Council Ward by election, or Parliamentary by election takes place after these dates). The next scheduled elections to take place in Croydon Borough, are the London Mayoral and London Assembly elections, which will take place on Thursday 2 May 2024.
Voters will NOT need to show photo ID in order to apply by post or proxy, however, the proxy will need to show their photo ID at the polling station.
More info about this photo ID requirement is available on Croydon Council's website
Popular Searches of Croydon Council Departments
ABOUT YOUR AREA - Click on the link below to Croydon Council's website.
Set your home address and/or postcode and find out about all the information in your locality. Your local Councillors, MP, rubbish/recycling collection days, nearest station, your Council tax banding, etc, etc. Link
Abandoned Vehicles on the highway and private land - Link
With the road tax discs scrapped from 1 October 2014 (Link), check whether a vehicle on the highway is taxed DVLA Link
CALAT (Croydon Adult Learning & Training) www.calat.ac.uk
Clearing snow & ice from pavements - Advice from the Government - Link
Croydon On Line - Links and Information locally Link
Environmental Reporting;
Do you need to report an environmental issue to Croydon Council like a pothole, damaged pavement, trees, waste bin, abandoned vehicle and many other problems? Then there are a number of ways this can be done (some are not available to do on the Council's website).
Refer to this webpage first;
https://www.croydon.gov.uk/environment/how-report-environmental-problem/report-environmental-problem
Or you can;
https://www.croydon.gov.uk/myaccount
You can also use this method for a missed collection of a refuse bin, recycle bin and food waste bin. Also use to order a new bin.
The RRA regularly receive complaints about loud fireworks being let off at times other than Bonfire night, New Year's Eve, Diwali and Chinese New Year. Whilst the RRA do not want to be "party poopers" here are some reminders about fireworks and the law. The RRA would ask if you are holding a fireworks party over the next few weeks, you respect your neighbours and don't let off fireworks after the times listed below.
Fireworks and the Law
The police have the power to stop and search for fireworks.

It is an offence for anyone under the age of 18 to possess fireworks in a public place.

It is an offence to throw or set off fireworks in a public place (including sparklers): in any highway, street, thoroughfare or public space.

Adult fireworks are category 2 and 3 fireworks - they don't include things like party poppers.

Category 4 fireworks can only be used by professionals.

It is an offence under the Explosives Act 1875 to tamper with or modify firework.

It is an offence for any person to use adult fireworks between the hours of

11pm and 7am

except for 'permitted' fireworks nights

.
The "permitted" exceptions are:
Bonfire Night (5 November), when the cut off is

midnight.

New Year's Eve (31 December), Diwali (Monday 12 November 2023) and Chinese New Year (Saturday 10 February 2024), when the cut off is 1am.


Buying fireworks
You can only buy fireworks (including sparklers) from registered sellers for private use on these dates:
At other times you can only buy fireworks from licensed shops. You can be fined up to £5,000 and/or imprisoned for up to 6 months for selling or using fireworks illegally. You could also get an on-the-spot fine of £90. Croydon Council's Pollution team advise the above legislation is enforced by the Police. The Met Police advise during the festive period of Bonfire night there are extra patrols across the borough to deal with any additional calls relating to anti social behaviour or disorder.
Or for further information go to this Government link
Freedom of Information Requests to Croydon Council
To make a FoI request direct to the Council use this link;
https://www.croydon.gov.uk/council-and-elections/privacy-and-data-protection/freedom-information-foi-act/make-information-request
Or you can use the, 'What do they Know' website on this link;
https://www.whatdotheyknow.com/body/croydon_borough_council
–------------------------------------------------------------------------------------------------------
Croydon Council's Garden Waste collection service is now a paid subscription service running every fortnight. Link
There is no discount for multiple bin orders. To check your collection day, either sign in through My account or visit this page on the Council's website and enter your address. If you haven't paid for the Garden Waste service, you will see that it says "collection day is unavailable". Only those who have subscribed to this service will see their collection day.
Illegal Encampments Link or 020 8726 6200 or Police Traveller Liaison Officer 020 8649 0266
Noise Pollution - Unreasonable noise can be a nuisance at any time of the day or night. The Council has powers to deal with unreasonable noise levels from loud music, parties, construction works or car and house alarms. The law enables us to take action against those who cause a noise nuisance, which can result in a fine and confiscation of any equipment causing the noise.
You can report excessive noise by contacting the Pollution Enforcement team on these details Our services include:
Pollution service available Daytime office hours: Tel: 020 8760 5483 Monday to Friday 09:00 to 17:00.
More information on this link
Croydon Council's Code of Practice for Building and Demolition Work by Contractors (not applicable for Household DIY)
Extract:
"Hours of Work - 6.1
Where residential occupiers are likely to be affected by noise, the hours of noisy works shall normally be restricted to:-
Monday - Friday: 8.00 a.m. - 6.00 p.m.
Saturday: 8.00 a.m. - 1.00 p.m.
Sunday and Bank Holidays: No noisy activities on site"
Further details from the Council on this link
Bonfire Advice and the law (RRA link)
Parking
Car Parking Enforcement - 020 8760 1966 - Option 3
Hours: Mon to Sat 7am to 7pm; Sun 9am to 4pm.
All other Car Parking Enquiries: 020 8726 7100
Planning & Building Control - 020 8726 6800
Leisure 020 8726 6900 for libraries, parks, sports & leisure centres.
Roadworks - Unhappy about a set of roadworks in London and the time being taken and poor management? Click the Link to Transport for London (TFL) to report the problem Link
Road Safety - Accidents near to you! Crashmap - Link
Recreational & Libraries
Purley Pool & Recreation Centre - Currently Closed
Waddon Leisure Centre Link
Purley Way, Waddon, Croydon, CR0 4RG
020 8760 0657
Purley Library Link
Banstead Rd, CR8 3YH - Limited opening - check the link above
020 3700 1013
Selsdon Library Link
Addington Rd, CR2 8LA - Limited opening - check the link above
020 3700 1017
Sanderstead Library Link
Farm Fields, S Croydon CR2 0HL - Limited opening - check the link above
020 3700 1015
REUSE AND RECYCLING DISPOSAL CENTRES
Purley Oaks - Brighton Rd, S Croydon CR8 1DG
Monday to Sunday: 8 am to 3.30pm (No Vans)
Factory Lane, W Croydon CR0 3RL
Monday to Saturday: 7.30am to 4.30pm
Sunday:8.30am to 4pm
Fishers Farm, North Downs Rd, New Addington CR0 0LB
Monday to Friday: 8am to 4pm
Saturday: 9am to 2pm
Sunday: 9am to 1pm
Permits required for the above Centres, see this Council webpage
The Purley Oaks Household & Recycling Centre no longer allow surplus paint to be disposed of, into the bins. Disposal of paint is now classed as hazardous waste, so Croydon are unable to accept it at any of their three household reuse and recycling centres. Paint being in liquid form causes spillage if the container is damaged.
If you have any usable surplus paint, try offering it to friends, local community groups or you can contact Community Re-Paint. http://www.communityrepaint.org.uk/
However if this is not practicable;
For disposal - Water based paints - You can dispose of "solid" water based paint which can be sent to landfill. To make make paint solid, you have to remove the lid from the can and leave it off for a number of weeks (replace the lid) before disposing of it. By putting sand in it or cat litter or makes it go hard quicker or you can buy a special hardener. Recycling Centre staff will probably want to see that the paint is hard before disposing of it. Empty paint cans (plastic or metal) or dried water based paint can be disposed of at the Council's recycling centres.
Oil paints - In the case of oil paint this is a bit more difficult. Oil based paint is now given a chemicals advisory notice and needs to be collected by the City of London (this service is subsidised by your local authority). Further information and details about this service are on this City of London Corporation link
https://www.cityoflondon.gov.uk/services/waste-and-recycling/commercial-waste/hazardous-waste-collection


The City of London Corporation provides a collection service for boxed chemical and paint only. You are entitled to three collections of 50L of containers per rolling year. Chemicals and paint tins must be put into cardboard boxes for collection. For further details, then either speak to a staff member at one of the Council's recycling centres or contact Croydon Council direct.
Large Unwanted Items and Other Collections
Croydon Council offer a collection service from your property of 'large unwanted items and other collections'. Full details are on this link to the Council's website. You will need to create an 'Online Account' (if you don't have one already) to take up this service.
Updated 12/12/22
As many residents may have noticed, the paper copy of the 'recycling and waste' dates that the Council deliver to households expired at the end of November 2022. The Council did advise last year that this paper copy would be the last one delivered to dwellings.
However, you can check the collection days and download the new sheet from December 2022 (and print off a copy). Just enter your postcode and/or address on this link
Updated 5/10/21
Croydon Council and the Purley Panel are inviting the Purley community to create a plan that can be used to shape the future of Purley Town Centre and its immediate surroundings.
The projects would not be funded by the Council; instead the plan would be used to help influence developers working in the area. It would also be used to support the local community to seek funding opportunities for local projects.
The RRA have a representative sitting on the Panel.
More information can be found on the 'Future Purley' website.
The Mary Finch Bench, Downs Court Rd/Selcroft Rd, Purley
Updated 7/12/22
The newspaper cutting/article is from the Croydon Guardian, dated 28 June 1990, which we have received from a former local resident. The house 'Skerryvore' in Oakwood Ave no longer exists - it was bombed during the 2nd WW and then demolished.
Unfortunately, the shape of the cutting/article makes it difficult to scan. But follow the left column down between photos 2 & 3 and then back up to the right column again on photo 2/3.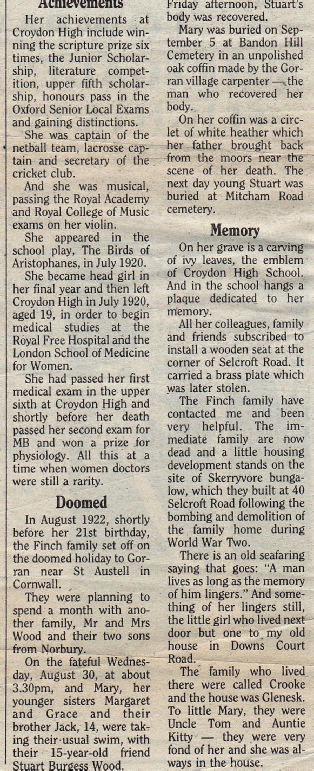 Update 30/8/22
The RRA were approached by the Croydon High School for Girls in Selsdon, in mid June about the seat/bench that is located on the corner of Downs Court Rd and Selcroft Rd - just outside of the RRA area. If anyone has read the inscription on the bench you will see it is dedicated to Mary Finch.
Mary Finch left Croydon High School in 1920 and sadly drowned 100 years ago this summer (2022), having first saved siblings from the water. She was young, a medic in training at the London School of Medicine for Women.
To help the School, the RRA made contact with a Council Officer to try and establish who owned the bench and who was liable for maintenance etc.
We received this information back from the Officer:
"My records are showing that the memorial bench is on land which is the responsibility of the Council - the site was acquired under a conveyance back in 1923 and was known as 'the site forming the Mary Finch Memorial'. The Council had covenanted to maintain, preserve and keep the public memorial in good repair and condition. It falls within the extent of the adopted Highway so I have included the Highway Records Officer for further comment on the email from the school."
The Council's Highways Officer subsequently gave permission for the Croydon High School to clear the overhanging branches, sweep the area thoroughly, sand down and re-varnish the bench.. Croydon High School wanted to mark the 100 th anniversary of her passing on 30 August 1922.
This extract is taken from the Bourne Society (kindly researched and supplied by local resident John Power);


"Purley - Downscourt Road - 1922 - the memorial seat for Mary Finch, who sadly was drowned while on a family holiday with friends, the Woods, in Cornwall, and Mary (right in photo) with her younger sister, Grace, whom she saved.
The younger children were swimming in what seems to be reasonable conditions in the sea at Port Luney beach at Caerhay castle and Mr Wood realised that they were having problems. Mr Wood and Mary Finch rushed to help. Mary pulled out her younger sister and went back to try and help Stuart Wood - he was 15 and had only just learnt to swim - but both were dragged out by the tide and lost. The Finch's 14-year-old son had also tried to help Stuart but Stuart was too strong and pulled the youngster down. The other children and Mr Wood managed to scramble out onto the rocks. Mary's body was not found until the next evening and Stuart's another day later. Mary was Head Girl at Croydon High School and there is also a memorial to her at the School. The family lived in Oakwood Avenue."
The Croydon High School Magazine - is on this pdf link and gives some more information.
The Croydon High school advised; "on Tuesday 30th August 2022, some members of the Croydon High community plus local residents met at the memorial bench. On this day 100 years ago ( 30 August 1922), she heroically gave her life to save another. Assistant Head Emma Webb and Councillor Simon Brew addressed the gathering, and pupils Amalie and Arabella laid a wreath on behalf of Croydon High School. Thank you to all who attended; it was good to meet new people, all with the same heart, to keep Mary's memory alive."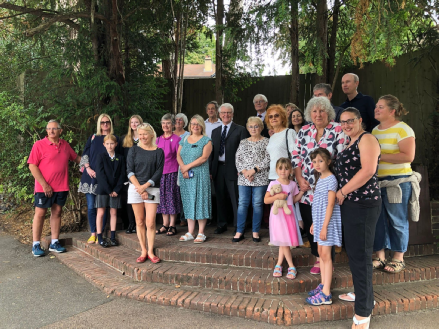 Information received from the Executive Mayor at Croydon - 14/6/23:
"Key milestone reached for Purley Pool;
Dear Resident,
I know how disappointed residents in Purley and across the south of Croydon were when the previous Labour Council closed Purley Pool.
That's why I made the promise of a pool in Purley one of my central campaign pledges during the Mayoral Election - and I have been working to fulfil that promise from the very start of my Mayoralty.
However, it quickly became clear that re-opening the former pool would not be sustainable due to the extensive disrepair allowed by the previous Labour Council.
Today, I am pleased to announce that the developer Polaska, who have held the main lease on the site for some years, are now preparing to submit plans for the regeneration of the Purley Pool site, which will include a new six-lane swimming pool, training pool, fitness studio and gym, as well as a soft play area for children and a café.
The plans also include a later living housing development, a new public square, and shops to regenerate the High Street. Residents have often told me that the walkway from Purley Railway Station into the Town Centre can feel unwelcoming, so the plans also include improvements to this route.
The aim is for the construction of the pool to be fully funded through the development, and the Council will run and operate the new facility.
These are exciting proposals which will help to revive Purley Town Centre. We will be working closely with Polaska and with the local community to ensure that any new development is right for Purley.
I want as many residents as possible to have their say.
Polaska is hosting public exhibitions on Tuesday 20 June, from 5-8pm, and Friday 23 June, from 4-7pm, at Christ Church in Purley. There will also be a stall at Purley Fete on Saturday 24 June, from 12pm to 4pm.
Those who are unable to attend the exhibitions in person can visit the consultation website for further details on how to get in touch with the project team. https://purleypool.co.uk/
This is an exciting time for Purley, and I look forward to working with the community as we regenerate this vital facility which the previous Labour Council neglected for far too long.
With best wishes,
Jason Perry
Conservative Mayor of Croydon"