ADVICE FROM THE POLICE AND TOP TIPS TO SECURE YOUR HOME
Updated 3/2/19
For Car/Vehicle Protection and Advice, click here
Recent burglaries in the area have been at the rear of properties. Beware!
 Mark or etch your property with your postcode, house or flat number or the first three letters of your house name.
 Register items with a serial number at www.immobilise.com
 Do not leave your car keys, valuables or ID documents near a door, letterbox or window.
 Always check who's at the door and don't open it if you feel anxious.
 Close and lock all your doors and windows, even if you are only going out for a few minutes.
 Keep your valuables out of sight.
 Leave some lights on if it will be dark before you get home. Use an automatic time switch on an indoor light, either in a room that cannot be peered into from the road, or upstairs. Consider drawing the curtains if you are in a room with the lights switched on. Regularly change the timing on the switch.
 Fit security lighting, either dusk to dawn energy efficient lighting that will come on automatically as dusk sets in, or a passive infra-red (PIR) light that will draw attention to movement.
 Fit a 5 lever mortice lock to your front door and other external doors. Consider installing a burglar alarm.
 Always keep sheds and outbuildings locked.
 Cancel milk or other deliveries if you will be away for days or weeks at a time. Ask a neighbour to periodically check and keep an "eye" on your property.
 Put a time switch on a radio that has been tuned to a chat station, this will give the impression that the house is occupied. Again, regularly change the timing on the switch.
 Property mark your valuables with your postcode and house number. Some articles are unsuitable for marking so photograph them - with a ruler in view to show scale.
 Secure windows, paying particular attention to those on the ground floor and above flat roof areas. Always use locks and bolts and keep all your keys, including car keys, out of sight and out of reach. Ground floor windows should have key operated locks unless used as a fire escape. Ensure that patio doors have at least three locking points fitted.
 Ensure that gates or access to the rear of the house are locked and all fences are secure. Don't forget to lock your shed; your tools can be used to break in. Trim overgrown plants - don't give burglars a hiding place. Always keep your garden shed and garage doors locked, if open the burglars love using your tools to force entry.
 Intruder alarms are an effective deterrent against burglars. Before choosing a system ensure it is the one most suitable for your needs.
For further advice visit the following websites: www.met.police.uk/crimeprevention
Trust your instincts. Always call 999 if you see anybody acting suspiciously in your area, giving their description and/or vehicle registration number to the operator.
If you require any further advice about Crime Prevention then contact your local SNT Office. Go to this link for SNT contact details in Riddlesdown.
GARDEN SHEDS
Garden sheds are a very popular target with burglars and are often overlooked when security is being considered. The value of the contents, such as garden mowers, strimmers and cycles can often add up to many hundreds of pounds. It is therefore wise to secure the shed door with at least one heavy duty hasp and closed-shackle padlock.
It may not always be appropriate to fit a heavy duty padlock, hasp and staple as the shed door and frame may not be strong enough to support them. There are a range of smaller but sturdy padlocks, padbolts, hasps and staples which would be suitable. Whether fitting heavy duty devices or otherwise, always use coach-bolt fixings through the door and frame.
All opening windows within the shed will require good window locks.
In addition to fitting external physical security to your shed, it is worth considering the installation of an alarm. This does not mean a complete burglar alarm system, though, if your house already has such an installation, it may be possible for it to be extended to the shed. There are various stand-alone devices on the market specifically designed for remote use in garages or sheds.
The major problem with vulnerable garden sheds is that they provide burglars with an arsenal of house breaking implements, e.g. the versatile garden spade: because of the blade size and the leverage that can be exerted, few door or window locks can withstand a prolonged attack from this implement. If the shed is too fragile to secure adequately, the spade should either be bolted or padlocked to a heavy bench or frame, or, better still, kept in a more secure place such as a locked garage. Alternatively, your tools can be secured by chaining them together.
Consider the use of a strong lockable box or cage within the shed in which you can store not only your garden tools but also insecticides, weed killers or other items which may be harmful to health or plants if improperly used.
THE SECRET LANGUAGE OF CRIME
Burglars have in the past been scrawling secret symbols in the street to help other criminals know which properties to target. The symbols may indicate that a home is wealthy, has already been burgled or may have nothing worth stealing. They may also indicate if there is a vulnerable female in the home, or if the occupant is nervous, afraid or gullible.
The meaning behind a number of the symbols has been decoded by officers who have put out a reminder in a bid to warn the public.
If you see any such symbols chalked in your street please advise your local Safer Neighbourhood Team so that they are aware.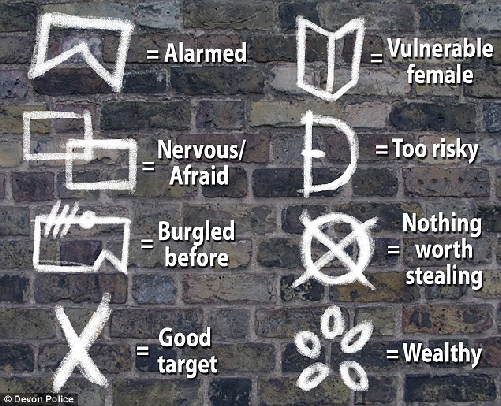 BLOCK NUISANCE/SALES PHONE CALLS AND JUNK MAIL
You can reduce the number of spam/sales calls by registering with the Telephone Preference Service by phone on 0345 070 0707 or online at www.tpsonline.org.uk
Any UK company that continues to call you can be reported via the TPS website and if they still continue to call you can report them to the Information Commissioners Office which has the power to prosecute any company that continues to make unwanted calls.
Silent calls come from an automated calling system used by many sales companies where there is no operator available to speak to you after the call has been automatically dialled, these can be reported to Ofcom on www.ofcom.org.uk
If you receive an abusive or threatening call this can be reported to the BT Nuisance Call Advice line on 0800 661 441 you can also report these calls to the Police by dialling 101 and giving as much details as possible so that the Police can attempt to trace the call.
Registering with the Mailing Preference Service
The Mailing Preference Service supports the right to choose the mail you wish to receive. Registration to this free service can be made on line or by phone to 020 7291 3310. Registration can also can be obtained from www.mpsonline.org.uk .
SHRED YOUR PAPERS AND PROTECT YOUR IDENTITY
Householders are being warned to be especially careful when it comes to disposing of papers containing personal details. There have been reports, borough-wide, of people rifling through domestic waste and recycling bins – some in private gardens.
CRIME PREVENTION ADVICE:
1 in 10 home owners are at risk of ID crime by leaving financial information on their doorstep
Royal Mail have conducted one of the largest studies of home movers in the UK which reveals people are putting themselves at risk of ID crime by not redirecting their mail when they move home. Click on this link to read more.
TRADING STANDARDS ADVICE: DEALING WITH DOORSTEP COLD CALLERS
You should always be alert when you receive a cold caller at your door. Not all doorstep callers are bogus. Some will be genuine sales people, but watch out for aggressive or misleading sales practices and rogue callers. Rogue traders are criminals who use the appearance of a legitimate business to commit crime and deprive you of your hard earned cash.
Never invite an unknown caller into your home and always use your door chain! Look out for some of the following types of phrases which may be used to try and frighten or entice you into agreeing to have work done on your property:
"You have a loose tile on your roof".
"You need to have some pointing on your chimney".
"You need some work doing on your driveway"
Never say yes on the spot.
Always get a second opinion about the work being suggested, it may not be as urgent as you think. A genuine trader will not pressure you into agreeing to have work done immediately. Do you need to answer the door? – NO! You do not have to answer the door if you do not want to, make use of security measures such as spy holes or door chains.
Check business details. Check traders' names, phone numbers and ask for written details/headed paper. Always get a written quote, ensure this includes full business details, including owner's name and address.
Always get a price and an idea of the length of time the job will take before paying any money. Never pay the full amount up front, always withhold money until the job is completed to a satisfactory standard.
Be wary of generous guarantees – a guarantee is only as good as the business unless it is insurance backed.
YOUR DOORSTEP – YOUR DECISION. Do not feel guilty if you want to say no! Call the Police on 999 if you feel threatened or dial 101 to report an aggressive trader.
COLD CALLING BOGUS SOLICITORS
The National Fraud Intelligence Bureau (NFIB) reviewed reports submitted to Action Fraud and has seen considerable proportions relating to cold calling bogus solicitors.

In all the reports analysed the bogus solicitors asked their victims to pay an advance fee for their "services" ranging from inheritance collection to Payment Protection Insurance. The bogus solicitors are not who they say they are and will take your money and disappear.

The fraudsters used these methods:
Debt:

Victims were cold called by individuals purporting to be from a law firm, advising them that there was outstanding debt and if this was not cleared then there would be warrant issued for their arrest.


Inheritance:

Victims were cold called and advised that a deceased relative had left a will which named them as a beneficiary of their estate.


Accidents:

Victims were cold called by a "solicitor" and advised that they were entitled to compensation in relation to an historical accident.


Recovery:

Victims were cold called by various individuals purporting to be from various organisations such as Action Fraud, and advised that they were able to recover funds from a previous fraud – this is known as fraud recovery fraud.


Immigration:

Bogus solicitors were offering services to immigrants detained in detention centres, offering legal services.
If you receive a suspicious cold call end it immediately, report it to us and do not give out any money or personal details. Remember; if it seems too good be true, it probably is

To report a fraud and receive a police crime reference number, call Action Fraud on 0300 123 2040 or use the online fraud reporting tool
Keyless vehicle ignition systems and key fob jammers
28/4/18
The Daily Mail are currently running a campaign to highlight the issues of increased car crime, in particular relating to 'keyless' vehicles. Most of these vehicles are 'high end' cars but it also applies to other manufacturers like Volkswagen and Ford. They are trying to put pressure on car manufacturers to improve security on their vehicles.
Some criminals are using 'relays' by standing near your front door and relaying the signal from the 'keys' in the owners home to the vehicle to start it and drive off without the 'keys'. We believe 'relays' have been used nearby to steal vehicles.
In addition 'jammers' are being used to stop the vehicle being locked when you walk away from it, even though you may think it has locked. The RRA are aware that 'jammers' have probably been used locally to steal items from vehicles. The individual is nearby and is watching you 'lock' the vehicle but 'jams' the central locking system. This method applies to all types of key fobs that rely on a central locking system.
The advice is, to always ensure the central locking has worked when you leave your vehicle (the hazard lights should flash and listen for the clunk) and to keep any keys if you have a 'keyless' vehicle away from where the vehicle is parked and preferably in a metal tin, or a Faraday bag which can be purchased via Amazon etc. This stops the signal from the 'key' being transmitted to the vehicle.
Key Fob Jammers
The RRA have been made aware that a number of Riddlesdown residents have had possessions stolen from their vehicles even though it hasn't been broken into. The owners are convinced they locked their vehicles with the fob. However, it appears thieves are nearby and are blocking the fob signal with an electronic device so the motorists thinks the vehicle has locked. Always make sure you hear the central locking 'clunk' and also check the hazard lights flash when locking the vehicle. If this doesn't happen the signal may be in the process of being blocked.
Car Number Plate Theft and Cloning
Number plate theft continues to be a problem in our area and many plates are used for serious criminal activity. The theft resistant number plate is made to stop anyone taking it off your vehicle quickly and reusing it on another vehicle.
The reasons behind number plate theft
The vehicle registration mark on a number plate is the key piece of information that the Driver and Vehicle Licensing Agency (DVLA) use to look up keeper details on a vehicle record. Stolen number plates are used on vehicles, by those who don't want to be found out when they commit such offences as:
 speeding
 illegal parking
 not paying congestion charges
 driving away from a petrol forecourt without paying
 not paying for parking tickets or speeding fines
 'disguising' a stolen vehicle
Vehicles with stolen number plates have also been used in more serious crimes such as kidnapping and robbery.
What to do if your number plates have been stolen
If your number plates are stolen, DVLA advises you to report the theft to the police. If you receive fines or correspondence after the theft, you should return them immediately to the issuing authority with an explanation and any documentary evidence.
Note: It is an offence to display the wrong vehicle registration mark on a vehicle with a maximum penalty of £1,000.
Theft Resistant Number Plates
You can buy Anti-theft screws for your number plates from Halfords or Amazon. They only cost a few pounds and could save you a lot of hassle in the long run. It is also worth speaking to your Safer Neighbourhood Team, they may be able to assist.
The benefits of theft resistant number plates
The DVLA works with number plate manufacturers and others, to develop an agreed standard for theft resistant number plates. The numerous benefits the new plates can offer include:
 cutting the number of car owners faced with motoring related fines for something they didn't do
 preventing vehicle cloning (copying the identity of a similar vehicle) and reselling them to unsuspecting motorists
Contact your local car dealer or registered number plate supplier for further information including fitting and cost.
Selling Vehicles
It has never been easier to buy or sell a vehicle than it is now - thanks to the internet. The ability to upload and view photos and vehicle descriptions, and contact buyers and sellers - all with a click - have transformed the business, and people's experience of buying and selling.
However, the internet has also made it easier for dishonest buyers and sellers to defraud larger numbers of people, so there are a number of things you need to be aware of before going online to sell a vehicle.
Safe Selling
Make sure any test driver has a valid driving licence and suitable insurance cover. You could be liable for any accidents they may have.

To avoid buyers being left alone (and potentially driving away) with your vehicle, keep hold of their keys at all times and avoid leaving them in the ignition.

Never hand over the vehicle keys or documentation until your bank has confirmed the full value of the vehicle has cleared into your bank account.

Never send money abroad.

Never pay a large deposit.

Don't be pressured into releasing your vehicle – a genuine buyer will not mind waiting until the draft has cleared.

Be careful about how you take payment:

Cash – ask for the cash to be handed to you in a bank, where the notes can be checked for forgeries and paid in immediately.

Cheques – never let the buyer take your vehicle until the funds have cleared in your bank account.

Bank drafts – are not as good as cash, so treat them in the way you would a personal cheque.

Online bank transfer is one of the safest ways to pay as it avoids handling large amounts of cash and the problems associated with cheques.
And as with all kinds of online transactions, always observe the following precautions:
Do not reply to, or click on links contained in, unsolicited or spam e-mails from companies or individuals you do not recognise.

Before entering payment card details on a website, ensure that the link is secure, in three ways:

There should be a padlock symbol in the browser window frame, which appears when you attempt to log in or register. Be sure that the padlock is not on the page itself ... this will probably indicate a fraudulent site.

The web address should begin with 'https://'. The 's' stands for 'secure'.

If using the latest version of your

browser

, the address bar or the name of the site owner will turn green.

Double check all details of your purchase before confirming payment.

Some websites will redirect you to a third-party payment service (such as WorldPay). Ensure that these sites are secure before you make your payment.

Choose safe passwords and do not reveal them to anybody, however trustworthy you think t they may be.

Always log out of websites into which you have logged in or registered details. Simply closing your browser is not enough to ensure privacy.

Keep receipts.

Remember that paying by credit card offers greater protection than with other methods in terms of fraud, guarantees and non-delivery.

Check credit card and bank statements carefully after shopping to ensure that the correct amount has been debited, and also that no fraud has taken place as a result of the transaction.

Ensure you have effective and updated antivirus/antispyware software and firewall running before you go online.

Ensure that if you are using a wireless

network

, it is secure and

encrypted

.
If you suspect anything
If you receive an email which you believe to be from a fraudster, do not respond, but forward it to the abuse department of the sender's email provider and use your email software to block further emails from the sender.

If you receive a text message asking you to phone a

premium rate

number, contact the free PhonepayPlus helpline on 0800 500 212. Alternatively, you can make a complaint to

PhonepayPlus

or

check a premium rate number

.
If you think you have been a victim of vehicle fraud:
Report it to Action Fraud, the UK's national fraud reporting centre by calling 0300 123 20 40 or by visiting; www.actionfraud.police.uk
BICYCLE SECURITY; POLICE ADVICE
Police are urging bicycle owners to take simple crime prevention measures to reduce their chances of becoming a victim of bicycle theft after a pan-London operation to pro-actively target thieves.
Bicycle owners are asked to:
• Make it difficult for thieves, it only takes a few seconds to cut poor quality locks, use gold Sold Secure standard locks when securing your bicycle
• Park your bicycle at secure cycle parking, which should be well lit and covered by CCTV - locking the frame and both wheels to the stand
• When parking you bicycle, take parts that are easy to remove with you, such as saddles and wheels or use secure skewers
• Mark & register your bicycle on BikeRegister - a visible deterrent to bike thieves. Google 'cycle marking in London' for details of events
• Registering your bike helps police and retailers identify and verify the legitimate owner of bikes that have been stolen or are being resold. A visible security marking on your bike deters potential thieves as your bike can be easily traced if it is stolen
• The MPS have selected BikeRegister as the preferred cycle register for London
• Keep a record of the details of your bicycle such as the frame number, BikeRegister number, other distinguishing features, and take a photo
• Don't buy a stolen second-hand bicycle. Insist on proof of ownership and check the bike frame number at BikeRegister
• If your bicycle is stolen, contact the police, giving them your frame and BikeRegister number, photo and any other data.