NEWSLETTERS ISSUED BY THE
CITY OF LONDON CORPORATION
For Events on the City of London Commons; Go to this link on our website.
October 2021
City Commons (Riddlesdown & Coulsdon) News
September 2021
City Commons (Riddlesdown & Coulsdon) News
August 2021
City Commons (Riddlesdown & Coulsdon) News
July 2021
City Commons (Riddlesdown & Coulsdon) News
Riddlesdown Open Space (end of Riddlesdown Rd) - Car Parking Charges commenced on 25 January 2021
Updated 11/2/21
The City of London brought in new parking charges to both Riddlesdown and Farthing Downs car parks from Monday 25 January 2021. A number of residents contacted us and Ward Cllrs about this and particular about the concern of further on street parking to nearby roads, particularly close to Riddlesdown Open Space.
We have taken some information below from the C of L website. There are also some 'frequently asked questions' on the website:
"How much is it to park? - ANPR cameras will monitor vehicle movement into and out of the car parks. There is a 10 minute grace window before charges apply.
Costs will be:
Monday - Friday (excluding bank/public holidays)
Up to 2 hours: £1.50
All day: £3
Weekends and bank/public holidays
All day: £3
Coaches and minibuses*
All times £18
*17 seats or more
Parking is free for disabled visitors displaying a correct blue badge and registering their vehicle via email or telephone (01785 336780).
Season tickets; Season tickets can be bought through RingGo (external link) from Wednesday 20th January (note: you may find it simpler to do this if you have first registered with RingGo).
How to pay: You can pay a number of ways:
Contactless cards and debit/credit cards at the payment machines by the car parks
Via the RingGo app (external link)
RingGo pay by phone system (details on the side of the machines)."

Beware if paying by the RinGo app that there are extra charges which are 25p for a text confirmation of your booking and a 25p reminder charges and are optional, which if you don't want to pay, you need to turn off by going to the account settings section of the app. Also if you wish to register 2 vehicles that belong to the same address use the 2 Car Season Ticket permit - a charge per additional vehicle applies £20 per year or £2 per month.


The RRA and local Riddlesdown Ward Cllrs have been in correspondence with the C of L about these charges since November 2019, as we believe, especially for Riddlesdown Open Space, users will possibly park in nearby streets and cause inconvenience to those residents. This is in addition to all the parking, during school weekdays, for the nearby Riddlesdown Collegiate.
Whilst some may support the parking charges, we believe many residents living in the streets nearby to Riddlesdown won't. Certainly resident feedback we have received so far about the proposed charges is one of anger.
The C of L are also concerned as to the numbers of people who are currently driving to Riddlesdown in the current Covid national lockdown - especially at weekends. Many drivers are parking on the grass verges beside the access road from Riddlesdown Rd. When Rangers have asked some drivers not to park on the grass verges, "often they are met with a barrage of abuse and are largely ignored." The C of L have advised that from Monday 25 January any driver who does not park within the marked bays of the car park will be subject to receiving a fixed penalty notice (FPN)."
Planning Application
It is surprising to note that retrospective planning applications have now been submitted by the City of London and validated by Croydon Council on 1 February 2021, for both Riddlesdown and Farthing Downs carparks, for the installation of the parking machines and the pole with the ANPR camera at both sites.
The planning application for Riddlesdown is 21/00274/FUL
and
Farthing Downs is 21/00270/FUL;
Public comments can now be made on both applications, within the time limit by 25 February 2021 but they must relate to the equipment already erected and any effect on nearby streets and the status of the Metropolitan Green Belt land, Sites of Special Scientific Interest and the Archaeological Priority Area etc and not the lawfulness of the parking charges themselves.
It does beg the question of the validity of the parking charges and more so the possible penalty fines for those drivers who don't buy a ticket, if planning permission is refused!
Stop- Look – Listen: Skylarks over Riddlesdown Open Space
By Nicola Hunt - a volunteer for the Sanderstead to Whyteleafe Countryside area
Updated 2/6/21
"As we enter June the skylarks are nesting on the fields of Riddlesdown. Skylarks are now a rare sight or sound in London and Britain has lost 61% of these birds in the last 40 years. The song of these special birds would have been a familiar sound to our grandparents or great grand parents and inspired great works of poetry from Percy Bysshe Shelley's "To a Skylark" to the beautiful George Meredith's "A Lark Ascending" which in turn inspired Ralph Vaughn Williams to write his musical composition of the same name. If you get a chance have a read of the poems or listen to the music or try listening to the real thing if you are walking on Riddlesdown. Skylarks fly up off the ground to sing hovering high in the sky.
They nest on the ground in the grassy fields of Riddlesdown and are easily scared off the nest or away from their flightless young if people or dogs gets too close. This reduces their chances of successfully hatching their eggs and rearing their young. This is why it is important to keep to marked paths and keep dogs on short leads when walking in areas where they nest. Please look out for the signs indicating the nesting areas and help the skylark"
On Riddlesdown Open Space the nesting grounds are generally (but not exclusively), the large fields of Skylark Field, Long Acres, Ibetts Piece, Dipsley Shaw and Field - see map below. Please during breeding season keep your dogs on a lead within these areas and keep to the well worn footpaths. Skylarks have also been seen nesting on the farm fields of Mitchley Hill/Rectory Park and Mitchley Ave. Again please keep to the Public Footpaths across this land. More information about skylarks are on the RSPB website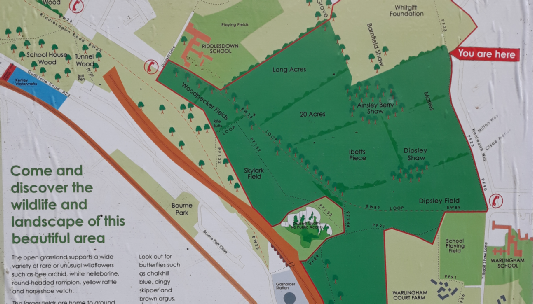 The new 'South London Downs National Nature Reserve'
Updated 11/8/19
Introducing London's Newest National Nature Reserve - July 2019
The extract below is taken from the City of London's Newsletter July 2019
"We are thrilled to announce that the Coulsdon Commons have been declared part of a new National Nature Reserve; the South London Downs National Nature Reserve. National Nature Reserves are recognised for having nationally important habitats or species and bring greater levels of protection to conserve landscapes. The NNR will be the second biggest in London, joining Richmond Park and Ruislip Woods, and will bring together the 417 hectares of land managed by City of London and London Borough of Croydon to create a landscape both rich in nature and where people can engage with the natural world."
A map of the South London Downs National Nature Reserve
A map of the South London Downs National Nature Reserve showing land ownership.
The above maps are published and acknowledged with thanks to the City of London Corporation and Croydon Council.
A recent press release from Natural England stating that Riddlesdown and all other City of London Commons/Croydon Council land (Coulsdon, Farthing Downs, Happy Valley, Kenley Common, Sanderstead and Whyteleafe etc) will be declared as the "South London Downs"
News letter No.23; February 2014
Court prosecution
In May 2013 one of our Jacob sheep was attacked by a dog on Riddlesdown. The dog was caught by visitors and we got details of the dog's owner. The City of London Corporation decided to prosecute and on 27th January 2014 the dog's owner was sentenced to a fine of £600, ordered to pay £95 in compensation and prosecution costs of £100.
We welcome responsible dog walkers to our open spaces but it is vitally important that visitors keep their dogs under effective control – especially where livestock are present. When livestock are attacked we will prosecute.
For full story see:
http://www.croydonadvertiser.co.uk/Owner-dog-savaged-prize-sheep-Purley-prosecuted/story-20506220-detail/story.html
Winter bluebell on the downs?
A shrill steam whistle heralded a visit by the Bluebell Special to Riddlesdown as it travelled from East Grinstead, steaming out of the tunnel and across the mainline viaduct spanning the Quarry. This is one of the steam engine "Specials" pulling carriages full of passengers on daytrips along the Bluebell's recently extended route.
A century ago, thousands escaped smog of London and travelled to the Victorian theme park on the lower slopes of Riddlesdown. Famed for its tea gardens, miniature railway, monkey house and other rural delights, Gardner's pleasure resort had over four thousand visitors on an August Bank Holiday back in 1908 - and we are still finding their discarded bottles today!
Thank you to Alan Barnes for his stunning photograph.
See also the page on our website about steam trains passing through Riddlesdown Link
Riddlesdown Common - January 2013
Increasing numbers of deer have been seen roaming Riddlesdown Common and the adjoining Green Belt wood and scrub land. This is good to see.
However, there have also recently been reports of a number of dogs seen chasing deer. Unfortunately on Saturday 5 January 2013 at approx 9.30am, two Alsatian dogs were seen chasing deer which resulted in one doe being severely injured. The Police and a vet were called to the injured deer which subsequently had to be put down by injection. The Police at Sanderstead SNT are pursuing their enquiries to establish the dog owner(s).
Dog owners are reminded to keep their dogs under control at all times when on the Common and to be prepared to encounter deer at any time. If owners have large dogs and are likely to chase deer, then they are urged to take measures, to prevent further attacks.