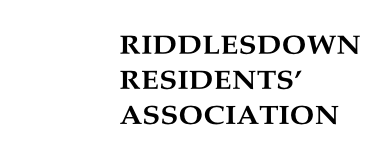 Mobile Phone Masts in Riddlesdown
Proposed mobile phone mast in Mitchley Ave adjoining
152 Riddlesdown Rd
Updated 27/8/19
The RRA have been made aware that EE & 3 are proposing to replace the existing 9.7m high green phone mast in Mitchley Ave near to and beside 95 Downs Court Rd (close to the sharp bend on Mitchley Ave/Downs Court Rd).
The proposal is to remove the existing shrouded mast and equipment at this location and install a new 20 metre high unshrouded mast nearer to 152 Riddlesdown Rd (close to the lamp post on the right in the photo below) but still situated on Mitchley Ave. They say the reason to double the height of the mast is for the new 5G roll out for EE and 3.
This application will need full planning permission which we expect will be lodged soon with Croydon Council. Any residents will then have a chance to lodge any objections.
The RRA realise that phone masts are vital for our community and we usually do not object just for the sake of it. Some EE service is very poor in parts of Riddlesdown because of the topography, so anything to improve mobile phone coverage would be good. However we believe this mast is maybe too tall and unsightly. And will it mean all other masts have to be increased in height to take the 5G antennae?
The RRA would like to receive the views/comments of nearby residents before we decide as to whether we object at the planning stage. Please e-mail us at RiddlesdownResidents@gmail.com
Will you please say if you live in the RRA area, as this mast is very close to our boundary at the sharp bend of Downs Court Rd. The mast is just within the RRA area.
Other mobile phone masts in the Riddlesdown RA area are generally screened and hidden.
They are located:
in the grounds of Riddleah Court, Lower Barn Rd, near to Riddlesdown Station - 02 and Vodafone


at the bottom of Dunmail Drive - 02, Vodafone & EE


near the top of Dunmail Drive - close to Riddlesdown Collegiate - EE


in Mitchley Ave adjoining 95 Downs Court Rd - 3 & EE
This article appeared on the BBC website on 27 August 2019.
The photos below are from Google street view of the existing mast and a draft drawing of the proposed mast.